AT&T
94.74%


Coverage


Plans From $65 to $85
Unlimited Talk & Text
Up To 100GB Premium Data & 30GB 4G Hotspot
Top Plan Includes HBO MAX
Up To 720p Streaming
Call 800-288-2020
View Plans & Pricing
Verizon
93.31%


Coverage


Plans From $70 to $90
Unlimited Talk & Text
Up To 75GB Premium Data & 30GB 4G Hotspot
Most Plans Include Apple Music and 1 Year Of Disney+
Up To 720p Streaming
Call 844-751-8735
View Plans & Pricing
T-Mobile
92.14%


Coverage


Plans From $60 to $85
Unlimited Talk & Text
Up To 50GB Premium Data & 20GB 4G Hotspot
Netflix And Quibi Free For A Year
Up To 1080p Streaming
Call 800-866-2453
View Plans & Pricing
Cellular Access In The Contiguous United States
With 94.73% coverage, AT&T has the best cellular access in 2023.
Verizon has 93.14% coverage followed closely by T-Mobile at 92.13%.
AT&T was named the fastest carrier for more states than any other carrier.
New Jersey has the best overall coverage while Montana has the worst.
Verizon has the largest subscriber base.
T-Mobile has the best multi-line pricing.
Cell Phone Stores Across United States
| Carrier | Stores |
| --- | --- |
| Verizon | 6892 Stores |
| AT&T | 5785 Stores |
AT&T Cellular Coverage Map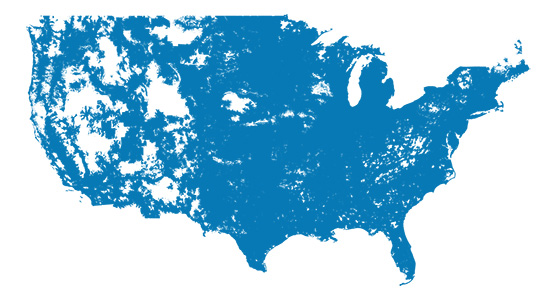 Verizon Cellular Coverage Map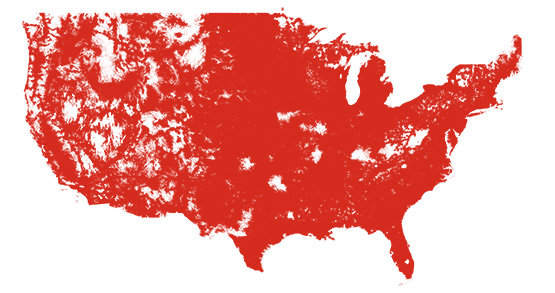 T-Mobile Cellular Coverage Map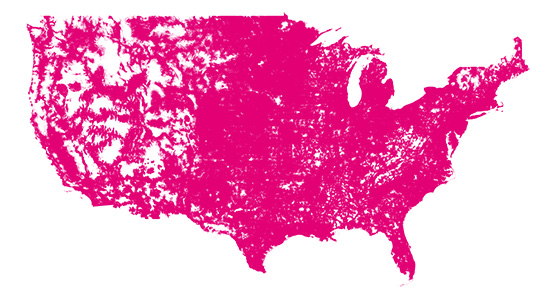 Cell Phone Coverage By State 2020